Discussion Starter
·
#1
·
Attached are the JB4 map 6 settings and graph log for the same run. It was a 3rd gear run from 2000rpm to 6550rpm (in 3rd) then shift to 4th and I let the car decelerate to about 3000rpm.
My biggest concern is the the AFRs during no throttle in deceleration is as high as 25.5. Is this normal. I know it is supposed to be lean during decel, but this lean should I be worried?
Also, could you take a look at the other variables? Do they look fine?
Here are my JB4 Map 6 settings: ( I was attempting to get peak PSI from 3000-5000)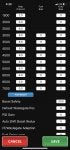 Here is a simplified graph of the same run:
for the
Here is the same run with more variables:
New to the VR30DDTT community any help would be greatly appreciated!