(cross post from Q50 forum, hope thats okay)
Hey guys - so I just traded in my Q60 and I'm parting out of most of my mods. You can see on my signature what mods I had on my Q, the car was on rails, AMAZING handling and performance. It was a hard decision to trade it in, but the family grew and it was just not practical to ride my monster 2 door coupe with a baby seat.
FYI - I'm giving preference to folks in the Greater Toronto Area, Canada, so we can trade locally / meet in person. By the way, if you are buying these new from the US you will not only have to pay a ton for shipping but you will also pay a bunch for more freaking import duties. All these mods costed me a fortune, you are getting barely used mods with a lot less.
If someone else (non local/USA) REAAAALLY wants something and I'm not able to sell this locally please PST.
Here is the list:
Almost new (installed Sprint 2021, never saw winter):
Hotchkis Sway Bar & SPL Endlinks: CAD $950 (SOLD)
SPL Adjustable Rear Toe & Camber Arms (titanium series): CAD $980 (both) and I can trow in the SPL Eccentric Bolts ($100+ value)
SPL Front Upper Camber/Caster Arms: CAD $900
AMS Intakes (Infiniti sticker): CAD $650
Brand new (still on the box, never got a chance to install it, i'm selling it at a loss, you basically save shipping and import fees):
SPL Rear Traction Arms: CAD $630
SPL Bumpsteer Adjustable Front Outer Tie Rod Ends: CAD $500
Fast Intentions Exhaust - used for 1 year, barely saw a few days of winter:
** Fits both Q60 and Q50 ** Fast Intentions Lower Downpipes: CAD $ 500
** Q60 ONLY** Fast Intentions Catback Exhaust (10'' sport mufflers and 10'' Vibrant resonators): CAD $ 1,500
Sample how it sounds when the 2 are together:
FYI - I'm not selling it cheap but remember that this means you don't have to wait 4+ months plus again, no taxes, no delivery fees, no import duties (I paid them!).
PS: Photos of the CBE are incoming later tonight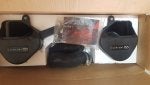 View attachment 102284
View attachment 102285
View attachment 102290
View attachment 102295
View attachment 102296
View attachment 102297
View attachment 102298
View attachment 102299
View attachment 102300