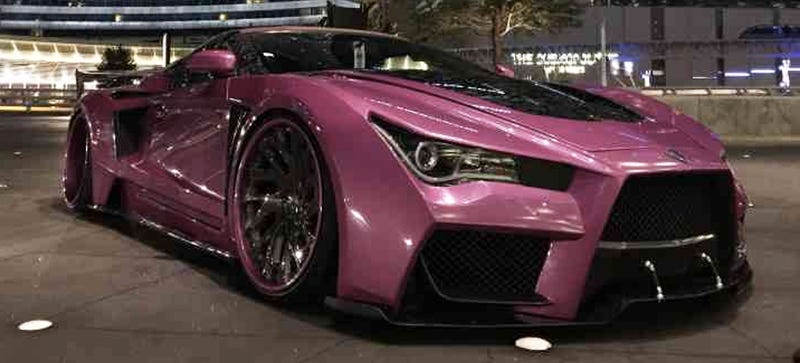 Theoretically, it is possible to turn the 2014-2017 Infiniti Q60 into Joker's ride if you have the extra funds and you don't mind having the car's entire body sawed off and its overall safety compromised.
Underpinning the Joker's Car in Suicide Squad is an Infiniti G35 Coupe, it has the same wheelbase as the 2017 Q60 (112, give or take .2 inches depending on the year) and similar length, width, and height. If Vaydor, the company that's offering this $11,000 G35 fiberglass rebody kit, is willing to do it and make tiny adjustments to the size then you too could own your very own Joker getaway car.
Designer Matt McEntegart was the one who created the body and he says 90% of the components are retained from the original car; stock chassis (power windows, locks, AC, cruise, tilt, ABS, traction control, etc.
The process starts with removing everything but the steel frame connecting the shock absorbers to the chassis and a roll cage is bolted on for increased safety. Sure it may not hold up as well as the factory roof or maybe the airbags may be compromised in the process but you would have probably made the choice to live dangerously if you wanted to drive one in the first place.
After that is a whole process of adding mounting points to the roll cage and redoing the interior. The stock seats probably will need to be redone to compensate for the new sloping roofline and there definitely isn't enough space for a set of rear seats.
Everything being done to the car is what an insurer's nightmares are made of but the Joker doesn't care about IIHS and NCAP crash safety ratings. With the hype around movie, we could be seeing a lot more of these modded Infiniti G35s rolling around.
Also, if you had the chance to, would you mod your Q60 to look like Joker's car?